Ashaya Yoga Todd Norian - Wellness Weekend & Yoga Teacher Training - Register Here!

Lake Champlain Yoga & Wellness is pleased to welcome back for the second year Ashaya Yoga Todd Norian for a Wellness Weekend and a Yoga Teacher Training to Essex, NY!
​
​


​~ Yoga Wellness Weekend & Yoga Teacher Training with Todd Norian


`:
The Art of Masterful Living - Embodying the Five Elements Through Yoga
We are all made of the five elements: earth, water, fire, air, and sky. Masterful living is achieved when these elements are balanced within. When out of balance, you may feel "contracted" (too much earth), "under water" emotionally stressed out (too much water), unmotivated (not enough fire) or over working (too much fire), scattered and fearful (too much air), or spacey and ungrounded (too much sky).

The Ashaya Yoga ® practice brings about a flowing integration of all five elements that leaves you feeling strong, confident, peaceful, openhearted, and ready to engage with life wholeheartedly from a place of worthiness.

Saturday 10 am - 1 pm - Open Sky and Rich Earth: Bask In the Vastness
Enjoy a spacious, heart-opening practice including standing poses, backbends, hip openers, twists, and forward bends. Includes a sky meditation and deep relaxation.

Lunch 1-2 pm at the Essex Inn (please register)

Saturday 2:30-5 pm - Delicious Water: Deepen Your Flow: Gentle Yoga and Therapeutics For the Lower Back and Hips
Water always finds its way back to the source – the ocean of consciousness. Gently open the body and practice therapeutic applications to soothe, restore, and strengthen the lower back and hips in order to flow better with the currents of life.

Sunday 10 am - 1 pm - Bright Fire: Flame of the Heart
Masterful living is about tapping into the infinite light of the universe deep in your heart in order to source your true passion and vision for your life. Light up your practice with a set of transformational poses that build power and core strength connecting you to your heart where you recognize you are already whole and complete. Practice includes standing poses, hand balance preps and refinements, hip openers, inversions, up-tempo backbends, and more.

Lunch 1-2 pm at the Essex Inn (please register)

Sunday 2-4:30 pm - Soothing Wind: Breathe Your Dreams Into Reality
Breath is the medium between your inner intentions and outer reality. Learn how to unite breath and body through the air element using slow, rhythmic, and steady movements. Practice an evocative constellation of uplifting poses that bring a gentle integration of all five elements. Poses include, leg stretches, hip openers, twists, side stretches, and forward bends. End with a deep relaxation integrating all five elements.

​Pricing - Register Today!
The workshops/weekend will sell out - 7 spaces remain out of the - 60 spaces available. Please register today!

Weekend Pricing
-Saturday Morning $65.00
-Saturday Afternoon $55.00
-Sunday Morning $65.00
-Sunday Afternoon $55.00
-Whole Weekend after March $225.00
-Lunch on Saturday or Sunday $20.00
-Lunch both Saturday & Sunday $35.00

- Checks
Send a check with the Sessions Days & Times to PO Box 102, Essex, NY 12936

- Credit Cards
With the link below:
---
​- Housing/Lodging
​For the Wellness Weekend or the Yoga Teacher Training please email Michelle Maron at info
@lakechamplainyogaandwellness.com
for all housing/lodging options.
- Information for Attendees for the Wellness Weekend
Thank you so much for joining us at the Yoga Wellness Weekend with Todd Norian March 25, 26 2017 in Essex, NY. We are thrilled to spend the weekend with you! Please read through the information below and email or call if have any questions!
~Schedule

Please arrive ½ an hour before your scheduled session(s) begin and check-in at the front desk.
~Saturday 10 am - 1 pm - Open Sky and Rich Earth: Bask In the Vastness
~Lunch 1-2 pm at the Essex Inn
~Saturday 2:30-5 pm - Delicious Water: Deepen Your Flow: Gentle Yoga and Therapeutics For the Lower Back and Hips
~Sunday 10 am - 1 pm - Bright Fire: Flame of the Heart
~Lunch 1-2 pm at the Essex Inn
~Sunday 2-4:30 pm - Soothing Wind: Breathe Your Dreams Into Reality
~Yoga Props
Bring your Yoga Mat, Blocks, Strap & Blanket. If you need props please let me know.
~Lunch/Water Bottle/Dress/Parking
-Coffee/Tea/Muffins will be available in the am both days. Bring a water bottle.
-If you would like Lunch - Saturday & Sunday at the Essex Inn (local, organic, delicious) and have not registered please let me know.
-Wear comfortable clothes you can move in.
-Parking is available on all streets in Essex. If you cannot find a space you may park across from the Essex Ferry Landing.
~Directions
College For Every Student, (CFES) Conference Center located at 2303 Main Street, Essex NY 12936 - behind the Post Office in the large grey building. Look for the banners!
--

​~ Yoga Teacher Training with Todd Norian - 200 Hour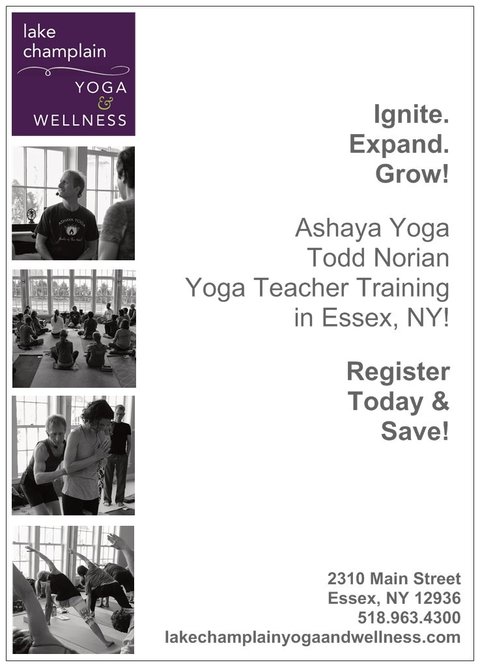 Ashaya Yoga Teacher Training
- October 4-9 & November 28 - December 3, 2017
- March 6-11 & May 15-20, 2018

​Take the Journey
Designed for aspiring yoga teachers and/or yogis who seek to deepen their practice and knowledge through a structured curriculum, this yoga teacher training will support you in awakening your heart and living a more meaningful and empowered life of freedom and joy. Through immersion in the life-affirming teachings of Ashaya Yoga®, you will transform your body, mind, and heart.

Why In-Depth Study
The curriculum of the Ashaya Yoga® In-Depth Study and Yoga Teacher Training Program is rooted in the fundamentals of the practices of asana, pranayama, meditation, philosophy, and anatomy. You will have the opportunity to immerse yourself in the deeper studies of yoga and build a stronger, more flexible and balanced body, a focused, clear, and calm mind, and establish yourself in your connection to spirit.

Learning to Teach Yoga
Within the supportive community environment, you will be championed to discover your own unique gifts as a teacher and learn how to offer them with confidence and clarity. You will be encouraged and supported to step into your own power and discover your authentic voice as you share the essence of yoga, which is love.

The journey of becoming a Yoga teacher is one of profound transformation and radical self-discovery. It requires a dedicated practice, ongoing studentship, and a willingness to open to the creative impulse of life.

Daily Schedule
Below is the daily schedule for the upcoming training Essex, NY. All sessions will begin on time, but may extend a few minutes over the scheduled ending time as needed. Please keep your schedule clear throughout the week in order to accommodate schedule changes.
​
---
(First Module begins Wednesday-Sunday)

Tuesday
6:30 p.m. – Registration
7:00-9:00 p.m. – Opening Night Session
Wednesday-Saturday
6:45-7:45 a.m. – Early Morning Practices
9:00 a.m. to 1:00 p.m. – Morning Session
2:30-6:30 p.m. – Afternoon Session
Sunday
6:45-7:45 a.m. – Early Morning Practices
9:00 a.m.-1:30 p.m. – Morning Session
Program ends at 1:30 p.m.
Friday
Evening Session 7:45-9:15 p.m. - Friday Only
Format
The course consists of 5.5 day intensives over an 9-month period with homework between segments. Each part provides in-depth training, experience, and inspiration for you to develop both your practice and knowledge of yoga and teaching skills. The pulsation of coming together in community and then returning home greatly enhances the learning process and integration of the material.
Yoga Alliance
Registered Yoga School 200 hour Yoga Alliance. This course is registered with Yoga Alliance at the 200-hour level. Once you become certified, you may register with Yoga Alliance as a 200-hour level RYT. For an application, visit the yoga alliance website.
At-Home Study
Assignments are given between segments to facilitate integration of the teachings. The homework constitutes an important aspect of the overall training and provides a structure of support for the learning process at home. The assignments include daily practice of asana, pranayama, and meditation, keeping a sadhana journal, weekly check-ins with study buddies, observation of other classes, practice teaching to friends, family, and/or students, required reading, written exercises, and take-home exams.
Prerequisites
Minimum 1 year of yoga experience with regular practice for the past six months, or by teacher's permission.
A sincere desire to learn, grow, open your heart, and be coached. Acceptance into the program is based upon approval of your application.
Course Content
Yoga is a scientific art. Teaching is an endlessly creative journey. Our goal is to provide a structure that will serve as a springboard to your unique and creative expression as a teacher. During this course you will cultivate skills needed to teach a masterful and inspirational class, including:
~Discover your authentic voice and unique gifts as a teacher.
~Teach with confidence, clarity, and technical precision.
~Learn elegant alignment techniques that create safety and healing in poses.
~Study postures in extensive detail, including common misalignments and corrections, and use of props.
~Teach with inspirational themes and heart-oriented language that speaks directly to the heart of the student.
~Learn basic anatomy and kinesiology as related to specific yoga postures and key actions in the body.
~Explore subtle energy anatomy including chakras, nadis, kundalini, and the five koshas.
~Observation skills, demonstration, verbal and physical adjustments.
~Learn effective and creative sequencing.
~Guide powerful introductions, centerings, and Savasana
~Study yogic philosophy, including Patanjali's Yoga Sutras, the Bhagavad Gita, and an introduction to Tantra.
~Learn practical ways to integrate these teachings into a yoga class.
~Receive individual coaching and mentoring within small practice teaching groups.
~Develop conscious communication skills.
~Release blocks that hold you back and learn life-affirming skills in a safe and supportive environment.
~Learn the business of yoga including professional practices and ethics.
~Be an active member of a vibrant learning community that will support you in your endeavor towards full expression.
Application
Please print and fill out the Application for the Ashaya Yoga Teacher Training below and return with the deposit. After we receive your application you will be notified of acceptance in the AYTT and then can make further payment arrangements either by Check/CC/Payment Plan or Scholarship - Questions - 518.963.4300
Tuition
~ $100 deposit due with application
After acceptance to the AYTT
~ After deposit Tuition - $2500 paid by August 22, 2017
~ After deposit Tuition - $2900 paid by September 12, 2017
~ After deposit Tuition - $3300 paid by September 29, 2017
The deposit is nonrefundable and nontransferable except through another Ashaya Yoga® 200-Hour YTT offered by presenter.
Individualized payment plans available upon request on a case by case basis.Payment Plans
PP are available for an additional $200 at each payment level. Payment plans consist of four monthly payments. Exceptions to this will be considered on a case by case basis. First payment due 7 days before the start of the first module, Sept. 26, 2017. The next three payments are monthly with specific due dates: Oct. 31, Nov. 28, 2017 & Jan 2, 2018. Late fees of $25 will be applied on all late payments. See application for details.
Scholarships
Please speak to Michelle Maron regarding all scholarships as there are some available for this YTT. All scholarship recipients need to fill out an application with the $100 deposit.
Payment Information
Deposits and final payments can be made by Credit Card with the link below or by checks made out to LCY&W and sent to PO Box 102, Essex, NY 12936.
More Information?
Questions or for more information please call Michelle Maron 518.963.4300 or go to
ashayayoga.com
--​~ Up North Yoga Conference
Saturday, October 22, 2016
Breathe. Stretch. Connect. Grow. - Photos!
Thank you Jen Zahorchak - ZVD Photography for capturing this third UNYC - an amazing day with an array of sweet photos. And, thank you to the over 70 students who came from all over the state & Vermont, presenters, sponsors & the entire Adirondack to Lake Champlain communities for making this extraordinary day happen - all in
Essex on Lake Champlain
, NY!
Experience the day - give this video a look!
https://www.youtube.com/watch?v=-XTmf-xRWZw
​