Yoga & Yoga Therapy - This ancient practice unites the body, breath and mind through a physical practice of asanas - yoga postures, breath work, meditation, and other mindful practices to improve your health and wellness.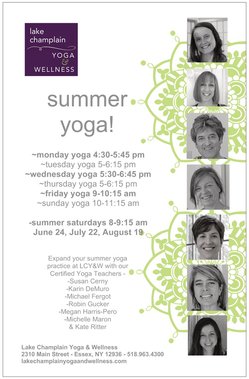 ​

~Yoga at Lake Champlain Yoga & Wellness
~2017 Weekly Yoga Classes -
June 26-July 4 -Monday Yoga - 4:30-5:45 pm - Susan Cerny
-Tuesday Yoga - 5-6:15 pm - Kate Ritter
-Wednesday Yoga - 5:30-6:45 pm - Michelle Maron
-Thursday Yoga - 5-6:15 pm - Michelle Maron
-Sunday Yoga - 10-11:15 am - Michael Fergot - Summer Yoga Begins!
-Monday Yoga - 4:30-5:45 pm - Susan Cerny
-No Tuesday Yoga - Happy July 4!~Yoga - Helpful Hints for Yoga Class - If you are able, please email and sign up if you are attending a Weekly Yoga Class.
- Your first class at LCY&W? Please come 10-15 minutes before class to answer any questions.
- Please remove your shoes when you enter LCY&W & turn off your cell phone.
- Wear comfortable clothes you can move in.
- Please bring a Yoga mat.- If you do not own a Yoga mat we have plenty along with blocks, straps, blankets & eye-pillows.Yoga Offerings
Weekly Yoga Classes
Yoga Therapy
Yoga Private Sessions
Yoga Private Classes
Kids' Yoga
Kids' Yoga Birthday Parties!
Group sessions and Partner Yoga
Corporate/Business/School/Yoga!
Yoga Bridal Parties
Yoga Birthday Party Practice!
Yoga Workshops
Wellness Workshops
Weekly Yoga ClassesSunday & Wednesday Yoga
Join Michelle Maron, Certified Kripalu Yoga Teacher and owner of LCY&W for energizing and revitalizing Yoga classes. We begin by focusing on breathing - Pranayama, then warming the core and entire body through a series of stretches that move into Yoga postures - Asanas which build strength and balance. We end the classes with relaxation - Shavasana that renews and refreshes! Michelle designs each class to stretch, strengthen & relax the body and mind. All levels are welcome.
Sunday & Monday Yoga
Join Susan Cerny, Certified Kripalu Yoga Teacher as she teaches an all level, Kripalu style class focused on mindful movement, deep breathing, balancing, stretching and strengthening. Her classes focus on cultivating proprioception as she safely leads students into deeper postures. Susan will guide you through proper alignment and steady, mindful transitions between postures. Each class ends in a relaxation and short meditation.
​
Sunday & Tuesday Yoga
Join Kate Ritter, Certified Yoga Teacher, for a Hatha style class intended for all levels. Kate's teaching focuses on coordinating the rhythm of breath with fluid movement, while building strength and awareness. Each class progresses through a variety of postures, gradually opening the body and generating energy before settling into final relaxation. Her instruction emphasizes the importance of safe alignment, and includes variations for students to explore their individual thresholds.
Sunday Yoga & Thursday Yoga
Join Karin DeMuro, CYT as she moves you through an hour and fifteen minute practice from Vinyasa to Yin paying close attention to the breath. Karin focuses her classes on alignment, movement with breath, strength and restorative postures melding many styles to revitalize the mind and body. A true yogic experience from Meditation to Vinyasa to Yin to Shavasana! All levels are welcome.
Summer Saturdays - June 24, July 22, August 19 8-9:15 am
Join Megan Harris-Pero, Yoga Alliance Certified Yoga Teacher and Meditation Facilitator from Saratoga Springs, NY, for a rise and shine class focusing on breathwork - pranayama, slow vinyasa flow -asana poses sequenced with breath, and a restorative relaxing finale to start your Saturdays off with feelings of peace and empowerment.
Megan was taught by Kimberly Beekman and others in the Saratoga Springs area in practices for yoga, meditation, and Ayurveda. All levels are welcome.

Summer Sundays beginning July 2 - 10-11:15 am
Michael Fergot E-RYT 500, will return for the his fifth Summer for Sunday Yoga at LCY&W! Each class will be a balance of breath and movement, attention and action. "If you can breathe, you can practice." A progressive sequence within each class, and a progression of practices throughout the summer. All are invited and welcome to a deeper experience of their own expansive nature. All levels are welcome.
Summer Fridays beginning July 6 - 9-10:15 am
Robin Gucker, CYT joins us for her second summer at LCY&W. Join Robin as she slowly progresses through a fusion of Vinyasa flow and 26 postures of the Bikram series. We will work mindfully together focusing on the breath, balance, strength and alignment in a moving meditation. Through the flow of asanas we will prepare the body and mind for a final deep relaxation. This class is for beginners and practiced yogis alike. We will engage in a playful exploration of postures as well as develop an intention in our postures and our thoughts.
What a Yoga class can do for you:
For the body: stretches and tones muscles - releases chronic tension - de-stresses and refreshes
For the mind: calms restless thoughts - cultivates concentration supports mental clarity and confidence
For the spirit: encourages self-acceptance - honors inner wisdom - invites deep peace
Like Massage it releases tensions.
Like Acupuncture it harmonizes the flow of energy in your body and enhances the immune system.
Like Chiropractic it stimulates and nourishes the spine and central nervous system.
Like Dance it improves balance, poise and flexibility.
Like Weight-bearing exercises it strengthens and nourishes the bones.
Like Aerobics it stimulates the cardiovascular system.
Like Meditation it relieves stress and calms the body and mind.

Learn more about Kripalu Yoga at
www.kripalu.org~Spring Gratitude! - Yoga Rates~
-40 Weekly Yoga Classes - $240
-30 Weekly Yoga Classes - $210-20 Weekly Yoga Classes - $180
-10 Weekly Yoga Classes - $105
-5 Weekly Yoga Classes - $60
-Kids' Yoga - $65
-Drop-In Class - $18
-$125 minimum per hour for Private Yoga Classes/Yoga Parties/Kids' Yoga Birthday Parties depending on number attending - Call Michelle Maron for more information - 518.963.4300
---

​~Giving - LCY&W Yoga Scholarship Fund
Below is a link to give monies for LCY&W's Scholarship Fund to help fund Yoga for those who cannot afford it. Yearly we give over $2500 in scholarship monies. If you are interested please choose a level and add to your cart. If you would like more information please call 518.963.4300 or email info@lakechamplainandwellness.com. Thank you!