Yoga & Yoga Therapy - This ancient practice unites the body, breath and mind through a physical practice of asanas - yoga postures, breath work, meditation, and other mindful practices to improve your health and wellness.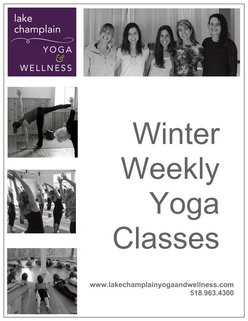 "Michelle's classes carry a kind of cadence, like a song. They contain a flow that builds artfully into a slow and effective practice. Thank you for being in Essex!-M.P.D.
​~Yoga at Lake Champlain Yoga & Wellness
~2017 Winter Weekly Yoga Classes
February 19 - 26
Sunday Yoga 10-11:15 am - Kate RitterMonday Yoga - 4:30-5:45 pm - Susan Cerny
Tuesday Yoga - 5-6:15 pm - Kate Ritter
Wednesday Yoga - 5:30-6:45 pm - Susan Cerny (Michelle Maron is on vacation this week)
Thursday Yoga - 5-6:15 pm - Karin DeMuro - New!
Sunday Yoga - 10-11:15 am - Karin DeMuro~New Weekly Yoga Class beginning February 23Thursday Yoga - FlowYin
6 Weeks
Karin DeMuro, CYT
5-6:15 pm
February 23 - March 30, 2017
Join Karin for a NEW Thursday Yoga Class FlowYin to balance your Yin & Yang. We begin with a gentle warm up (Flow) for 30 minutes (Yang), followed by 45 minutes of Yoga postures on the mat, holding each for a longer period of at a time (Yin). The Yang invites movement and strength and Yin helps develop a mindful meditation.This class allows the fascia and inner connective tissue to stretch and move balancing out your body and improving circulation and your Yoga practice. All Yoga Series can be used for this class.
~Yoga - Helpful Hints for Yoga Class - If you are able, please email and sign up if you are attending a Weekly Yoga Class.
- Your first class at LCY&W? Please come 10-15 minutes before class to answer any questions.
- Please remove your shoes when you enter LCY&W & turn off your cell phone.
- Wear comfortable clothes you can move in.
- Please bring a Yoga mat.- If you do not own a Yoga mat we have plenty along with blocks, straps, blankets & eye-pillows.Yoga Offerings
Weekly Yoga Classes
Yoga Therapy
Yoga Private Sessions
Yoga Private Classes
Kids' Yoga
Kids' Yoga Birthday Parties!
Group sessions and Partner Yoga
Corporate/Business/School/Yoga!
Yoga Bridal Parties
Yoga Birthday Party Practice!
Yoga Workshops
Wellness Workshops
Weekly Yoga ClassesSunday & Wednesday Yoga
Join Michelle Maron, Certified Kripalu Yoga Teacher and owner of LCY&W for energizing and revitalizing Yoga classes. We begin by focusing on breathing - Pranayama, then warming the core and entire body through a series of stretches that move into Yoga postures - Asanas which build strength and balance. We end the classes with relaxation - Shavasana that renews and refreshes! Michelle designs each class to stretch, strengthen & relax the body and mind. All levels are welcome.
Sunday & Monday Yoga
Join Susan Cerny, Certified Kripalu Yoga Teacher as she teaches an all level, Kripalu style class focused on mindful movement, deep breathing, balancing, stretching and strengthening. Her classes focus on cultivating proprioception as she safely leads students into deeper postures. Susan will guide you through proper alignment and steady, mindful transitions between postures. Each class ends in a relaxation and short meditation.
​
Sunday & Tuesday Yoga
Join Kate Ritter, Certified Yoga Teacher, for a Hatha style class intended for all levels. Kate's teaching focuses on coordinating the rhythm of breath with fluid movement, while building strength and awareness. Each class progresses through a variety of postures, gradually opening the body and generating energy before settling into final relaxation. Her instruction emphasizes the importance of safe alignment, and includes variations for students to explore their individual thresholds.
Sunday Yoga & FlowYin
Join Karin DeMuro, CYT as she moves you through an hour and fifteen minute practice from Yin to Vinyasa paying close attention to the breath. Karin focuses her classes on alignment, movement with breath, strength and restorative postures melding many styles to revitalize the mind and body. A true yogic experience from Meditation to Shavasana.
What a Yoga class can do for you:
For the body: stretches and tones muscles - releases chronic tension - de-stresses and refreshes
For the mind: calms restless thoughts - cultivates concentration supports mental clarity and confidence
For the spirit: encourages self-acceptance - honors inner wisdom - invites deep peace
Like Massage it releases tensions.
Like Acupuncture it harmonizes the flow of energy in your body and enhances the immune system.
Like Chiropractic it stimulates and nourishes the spine and central nervous system.
Like Dance it improves balance, poise and flexibility.
Like Weight-bearing exercises it strengthens and nourishes the bones.
Like Aerobics it stimulates the cardiovascular system.
Like Meditation it relieves stress and calms the body and mind.

Learn more about Kripalu Yoga at
www.kripalu.org~Yoga Series - Rates!-20 Weekly Yoga Series - $180
-10 Weekly Yoga Series - $105
-5 Weekly Yoga Series - $60
-Kids' Yoga - $65
-Drop-In - $18
-$125 minimum per hour for Private Yoga Classes/Yoga Parties/Kids' Yoga Birthday Parties depending on number
---

​~2017 Winter Wellness at LCY&W with Nixa, Susan & Marianne
-
~Natural Solutions with Nixa DeBellis
Friday, February 17 - Postponed until Spring!
6-7 pm
FREE essential oils education class
​
-Art of blending custom aromatherapy for health healing and enjoyment.
-Science of botanical medicine and how plant essences work.
-Co-sourcing responsible and environmental sustainability.
-Philanthropic vision of the doTERRA mission.
-Samples will be gifted.
-Please bring a credit card for enrollment in a wholesale account.
-Retail purchases ordered for home delivery to your door.
-This workshop is FREE, please email that you are attending
info@lakechamplainyogaandwellness.com
​by February 15.
Testimonials
I have suffered from an acidic stomach for years. I've managed the symptoms in varying ways over time, always searching for nature's way over the modern, chemical Pharma products. Digest Zen is a winner. I began with the oil blend, dropping one or two drops on my tongue after meals and found no trouble for my belly. I later tried the chewable tablet form of Digest Zen, and though both of them work as well as the other, I really like ease of the tablets to carry around with me and slip one in my mouth at a restaurant. I bring Digest Zen with me everywhere.
-V. B.
My little bottles of doTERRA oils are gems in my nightly rituals. Nixa brought the oils to me as a way to put an end to a long time irritation of living with Tinnitus (ringing of the ears) Helichrysum, Frankincense and Geranium are the ones I started with and as well as topical application near my ears, temples and neck, I have made a very relaxing self care regimen by using them in the bath every evening. It has been really great in reducing the Tinnitus (almost all gone) and it turns out to take my stress levels way down in a routine of pleasure and enjoyment. Everyone should have these oils in their homes.
-P. P.
~The 15 Nityas - Everlasting Goddesses - the Phases of the Moon with Nixa DeBellisSaturday, February 18 - Postponed until Spring!
1-4pm
Philosophy Talk - Moving on Little by Little, Again and Again/Puja - Making Theater of our Understandings$45 by February 10
$55 after
In October at the Up North Yoga Conference, we made ritual. We circled around to the right, called "pradakshana" in a temple. We saw and dreamed up images of personified divinity in the form of 3 goddesses (Kali, Saraswati and Sri). We applied the energies of the Divine Feminine upon ourselves, no matter what gender. We wrote love letters to life on banana leaf paper and tied up a scroll with hemp string. We took those home to make prayer sticks for the altar or even to toss in the lake or bury in the ground to be metabolized. A prayer, a hope, a vision given to the whole of the Universe.
We're going to do it again!
Using the framework of the continuing, reliable cycling of the phasing of our moon and the coursing of days through a life, we will learn about the 15 goddesses associated with the phases. We will get the iconographic images for artistry and inspiration. We'll learn how the 15 are in sets of 3 within the intimacy of the sexual metaphor and as well the closeness of your very breath rising, pausing suspended and flowing out. That close. That real. That current.
And we will learn how the visions of yoga can offer us not only a physical wellness strategy, but also a lens through which to make sense of the difficult challenges a life and a society present by engaging the biggest picture of ALL.
L O V E.
Bring a journal and some pens and colors. Wear something cozy. No asana, but floor sitting.
~Mindfulness Meditation Mondays with
Susan Cerny
Six Mondays beginning February 20
6-6:45 pm
$30 Series
$8 Drop in$6 After Yoga
Join Susan Monday nights from 6-6:45 for a community meditation. Meditation is powerful age old practice that is used to calm and focus the mind and restore overall well-being to the body. Class will begin with guided meditation instruction and ease into a silent group meditation. We welcome beginners and advanced meditators and will offer support and information for those wishing to establish a steady home practice.
​
~Soup & Seminar with Marianne Patinelli-Dubay
Sunday, March 5​1-4 pm$35 by February 25$45 after
Soup and bread will be served at 1 pm. Please join us!
Here is the place; here the way unfolds: Actualizing the Fundamental Point
We will begin with a short meditation and gentle asanas to focus the mind and prepare the body for a seated discussion. We will spend the remainder of our time together reading aloud from Zen Master Dōgen's lyrical essay as he instructs us in how to see the features of oceans and mountains in their infinite variety.
During our previous seminar focused on the Heart Sutra, we turned to Dōgen's short essay Actualizing the Fundamental Point for guidance through the three stages of meditative experience. We related these stages to our own personal chapters of life and self-awareness. First from the vantage of youth which sees things simply as they are, to the muddle of mid-life that is often consumed by daily striving when things in themselves become mirrors of our own desires. Finally in life we loosen our attachment to ego and attainment and we return to a simple yet fuller awareness of the plurality of things as they are. Mountains become mountains again when both innocence and striving fall away and the world emerges all at once and in a single rush of Aha! Or as Dōgen puts it The buddha way is under everyone's heel. Immersed in the way, clearly understood right on the spot.
In this seminar we will return to Dōgen's brief koan in an attempt to understand more about the nested realities and complicated illusions that become the dance between a singular and a unified world view as we continue our discovery of wisdom beyond wisdom through Actualizing the Fundamental Point.
-To register by check.
Nityas - $45 by February 4, $55 after
Meditation - $30 - 6 Series by February 15
Soup & Seminar - $35 by February 25, $45 after
Send the appropriate amount from above to LCY&W, PO Box 102, Essex, NY 12936-To register by CC - Link below.

~Giving - LCY&W Yoga Scholarship Fund
Below is a link to give monies for LCY&W's Scholarship Fund to help fund Yoga for those who cannot afford it. Yearly we give over $2500 in scholarship monies. If you are interested please choose a level and add to your cart. If you would like more information please call 518.963.4300 or email info@lakechamplainandwellness.com. Thank you!