Wellness Mentors - An experienced and trusted advisor cultivating your health and wellness.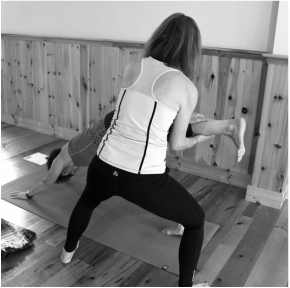 "Michelle, Kristen, Susan, Robin, Kate, Karin, Michael & Carmen are truly a wonderful team to help with all my wellness needs
"
-C.S.
Wellness Mentors at Lake Champlain Yoga & Wellness
- Michelle Maron, Owner LCY&W, BA, CKYT
After practicing Yoga for 15 years and working in fundraising, marketing and sales for over 15 years Michelle stepped out of the business world to follow her passion and stepped on the mat to become a Yoga teacher. She trained at the renowned Kripalu Center for Yoga and Health with Devarshi Steven Hartman and Premshakti Mary Stout and became a Certified Yoga Teacher in 2008.
In 2008, she founded Lake Champlain Yoga Arts and has successfully and happily been teaching students in the area. "As we move through our lives, we need the physical and mental strength, balance, and inner peace to find our way." Yoga provides all that within a community of people who are positive and inquisitive. I have always marveled at the changes in students faces before and after class---before class there is the challenge of everyday life and after there is relaxation, rejuvenation, and happiness."
In 2011 she opened Live Well in Essex, NY and offered Kripalu Weekly Yoga Classes on Mondays, Wednesdays & Fridays & many Yoga Workshops listed below. She has also had the opportunity to work with CFES helping their staff with professional development.
In 2013 she expanded into Lake Champlain Yoga & Wellness offering Yoga, Yoga Therapy, Massage & Physical Therapy!
Past Wellness Workshops
Introduction to Ayurveda & Yoga
Renewal Weekend – Outdoor Explorations/Inner Discoveries
Yoga, Alignment and You! YAAY!
Journey into Spring & Summer – Mind & Body Yoga Workshop
Ayurveda, Nutrition & Yoga Using Food & Movement as Medicine for Digestion
Stress Balancing Series
Assisting Your Yoga! AYY!
The Art of Ayurveda & Yoga
Restorative Yoga – Relax, Renew, Restore
Breath, Breathing, Breathe – Yoga Workshop
SUP - Relax on the River
Handstand Heaven - Wellness Workshop
Spring Into Ayurveda
Mala Bead Workshop
Thursday Drumming
Love Inversions
Kundalini Yoga
Up North Yoga Conferences
Yoga Wellness Weekend with Todd Norian
The Insight that Brings us to the other Shore - Wellness Workshop
Quotes from Michelle's Yoga Classes
"Michelle's classes are simply, consistently exceptional. Her commitment to the ancient origins and the contemporary expressions of yoga, to her student's growth and transformation and to her own expansive practice is an inspiration.
Michelle cultivates an atmosphere of generosity, wisdom and abundance that is as captivating as it is rare. With an effervescent and generous spirit she guides a class of beginning and advanced students alike through a challenging practice with the ease and humor of a natural teacher." M.D.
"Michelle's clear and articulate instructions allow each student to practice at their own pace. She is an excellent teacher." -M.B.
"I have practiced Yoga all over the world and especially in San Francisco, but Michelle's classes are truly the best by far. She is so caring and careful with each student. Essex is very lucky to have LCY&W!" -L.N.
"Thank you for the lovely, lovely, lovely yoga class this morning. Perfect. It was just what I needed. Loved the flow." -G.T.
"She is aware of everyone and notices your alignment and movement even when you think she is not looking. I always leave in such a blissful state. " -E.H.
"I have practiced with Michelle for over 6 years... she continues to surprise with her depth of knowledge and expertise. She has deepened my practice and I always look forward to what she has to offer!" -S.B.
"She has a message. If you listen closely you will hear it. You must listen." -J.C.
"I can't tell you what a pleasure it has been to practice with you & Michael over the last three weeks!!! You have created such a lovely space that exudes warmth & compassion & that allows for a safe & deep exploration of body/mind/spirit in each of us. The collective energy is palpable... it bolsters & supports the individual path. These classes have really grounded me & allowed me to harness the open space of the Adirondacks in my own perceptions & explorations." -P.W.
"Thank you again for a lovely re-introduction to the wonders of yoga. I must admit that as much as I loved the physical benefits, I also really enjoyed your way of being. I especially enjoyed your encouragement, matched only by your honesty and sense of humor. I keep thinking of the crowded Monday night where you shared that in the six years of working to establish the classes, there were some nights no one came. I thought that more than your flexibility, your teaching modeled grace and determination, qualities we can all aspire to practice."
-S.R.
"I have been meaning to say what a great teacher you are. You are professional, but light. Challenging, but accepting. Honest, but forgiving. Your words of wisdom are genuine, and always evolving. They are never cliche or off-handed. I feel good when I am with you, and am honored to practice with you." -M.B.
Contact - 518.963.4300 - michelle@lakechamplainyogaandwellness.com
- Kristen Hatch, Physical Therapist
Manual Physical Therapy, Massage, Trigger Point, Deep Release and Sports Massage, Women's Health, Kinesiotaping, Vestibular Disorders, Sports Specific Performance Enhancement and Dynamic Stretch Training, MFR and Craniosacral Work
Kristen is a licensed Physical Therapist graduating from Russell Sage College in Troy, NY in 1996 where she obtained her BS in physical therapy. After completing various clinicals in the northeast Kristen began practicing in a small family owned clinic in Westchester County focusing on Sports Medicine. From the beginning Kristen developed a love for hands on therapy and learned early that her education gave her only a framework to become an excellent therapist. She realized spending more time doing manual therapy with her clients can truly help them heal. Kristen recently settled back in the Adirondacks where she was born and raised and has joined LCY&W! After accessing each client she will compose a custom fit treatment plan, including time and frequency recommendations. Make your appointment today with Kristen! Massage - Trigger point, Deep Tissue, Sports/Orthopedic, Pre/Postnatal, Muscle Energy Technique
Contact - 518.728.4054 -
alignmekhatch@gmail.com
- Susan Cerny, CKYT
Kripalu Yoga Teacher
Susan has been practicing yoga for 10 years and is a Kripalu certified yoga teacher. Her classes focus on deep breathing techniques, strength and stability in postures, and mindful, meditative movements. Yoga can be a practice for people of all ages and abilities to cultivate deeper awareness of your bodies. Susan's classes are accessible to new students as well as advanced practitioners. She has taught yoga in studios throughout Saratoga Springs, NY, and Salt Lake City, UT as well as in schools, teen rehab programs, colleges, and on her farm for CSA members and local community. Susan lives with her partner and two dogs in Essex, NY where they manage a small organic vegetable farm.
Quotes from Susan's Yoga Classes
"Susan invites us into a practice that balances elegance and athleticism. She conveys a deep understanding of the yogic purpose of interlacing mind, body and the divine while she encourages an attitude of playfulness that makes her classes dynamic, artful and transformative." -M.D."Susan's classes compliment Michelle's so well as she offers the perfect combination of strength and balance - thank you for being at LCY&W!" -C.L.P.

- Robin Gucker, CYT
Kids' Yoga, Summer Yoga
Robin Gucker from Keeseville, NY has been practicing Bikram Yoga for 10 years. Robin began a Yoga Teacher Training with Evolution Yoga Teacher Training in Santa Barbara CA, and Tampa Florida. Robin has been an Educator for over 25 years and currently teaches Kindergarten and Movement and Games to Elementary aged students at a farm based Waldorf School in Essex, NY. Robin's love of movement led her to complete the 5 year Level I Spacial Dynamics training. Robin's passions include adventures in the mountains hiking, backpacking, back-country skiing, sailing, farming, cooking, working with children, silk painting, music, family and of course YOGA! Robin is excited to join the teachers and wellness practitioners at LCY&W to introduce yoga to all ages with a new Kids' Yoga Class!

​- Michael Fergot, CYT
Anusara Yoga, Summer Yoga
While at the University of Madison pursuing an Asian Studies Major, Micheal was introduced to Yoga in 1982. Studying several forms of martial arts throughout his a career as a dancer, Yoga has been a consistent thread in the tapestry of his life. In 2002, desiring to go deeper, he took his first teacher training with Jackie Prete and Ellen Saltonstall, and was asked; "why aren't YOU going to teach yoga?" Since then he has had the good fortune of Yoga becoming his full-time vocation. In 2013 he finished an Advanced Teacher Training with Tara Glazier and Zhenja La Rosa. Michael would like acknowledge the very special teachings of Paul Muller Ortega and Noah Maze. Michael teaches community classes based on alignment principles to facilitate the ever deepening joy of being. He also works with individuals and small group to assist in their deeper studies.
- Kate Ritter, CYT
Hatha Yoga Teacher, Weekly Yoga Classes
Kate has been practicing yoga for 12 years. Her initial inspiration for exploring it was to balance the high-impact sports she's been involved with from a young age, and it has remained an important outlet for overall well-being ever since. Eager to continue building upon her experience, Kate completed a 200-Hour Yoga Teacher Training with Debbie Philp, founder of True North Yoga in Schroon Lake. Kate's classes are intended for all levels, and focus on coordinating the rhythm of breath with fluid movement, while building strength and awareness. Kate has a master's degree in Historic Preservation, and currently works as Manager of the Whallonsburg Grange Hall. She also plays fiddle with several local bands. Additional joys include rock climbing, cycling, hiking, and skiing and attending amazing classes at LCY&W!
- Karin DeMuro, CYTHatha Yoga Teacher, Summer Yoga
Karin has had a lifelong interest in movement, studying Classical Ballet, Jazz and Modern Dance for 10 years while she was growing up in the Syracuse area. She is a Certified Yoga instructor and uses Vinyasa, and Yin styles in her Yoga Classes. She believes that Yoga is for anyone and everyone of all ages and abilities. She seeks to share the physical, mental and restorative benefits of a regular practice with all her students giving them the valuable tools Yoga offers to life. She lives in Elizabethtown, NY with her husband and three children and has taught Zumba as well.
- Carmen Maron Walker, MA, NCC, CYT
Ayurvedic Consultant
Along with being a psychotherapist, she is an Ayurvedic consultant. Ayurveda is an alternative medical system that originates from India, which treats using food as medicine, daily routine, and herbal formulas. She has been successful working with clients in addressing a variety of physical and mental health concerns, including depression, anxiety, insomnia, weight management, hormonal imbalances, digestive disorders, and autoimmune disorders. She is a graduate of The Ayurvedic Institute, where she had the opportunity to study for two years with Dr. Vasant Lad, a world-renowned Ayurvedic physician. In 2003, she completed an Ayurvedic apprenticeship, which provided specialized clinical training in Ayurvedic cooking, herbal remedies, and lifestyle management. In her practice, she offers the additional option of integrating mental health counseling and Ayurveda. In this way, she enjoys providing alternative mental health counseling, which compliments traditional talk therapy by working with the whole person: the body, mind, and spirit. Her continued curiosity and passion for combining mental health counseling with Ayurveda revolves around the ways these two paradigms compliment each other by providing tangible tools for maintaining a greater sense of balance. Please call or email to make an appointment.
Contact - 802.793.6655 - carmenmaron@gmail.com
LCY&W - Weekly Newsletter Link
j
eepurl.com/b630Kj
Essex on Lake Champlain Blog
​http://www.essexonlakechamplain.com/lake-champlain-yoga-and-wellness/
---