Winter Wellness & Gift Certificates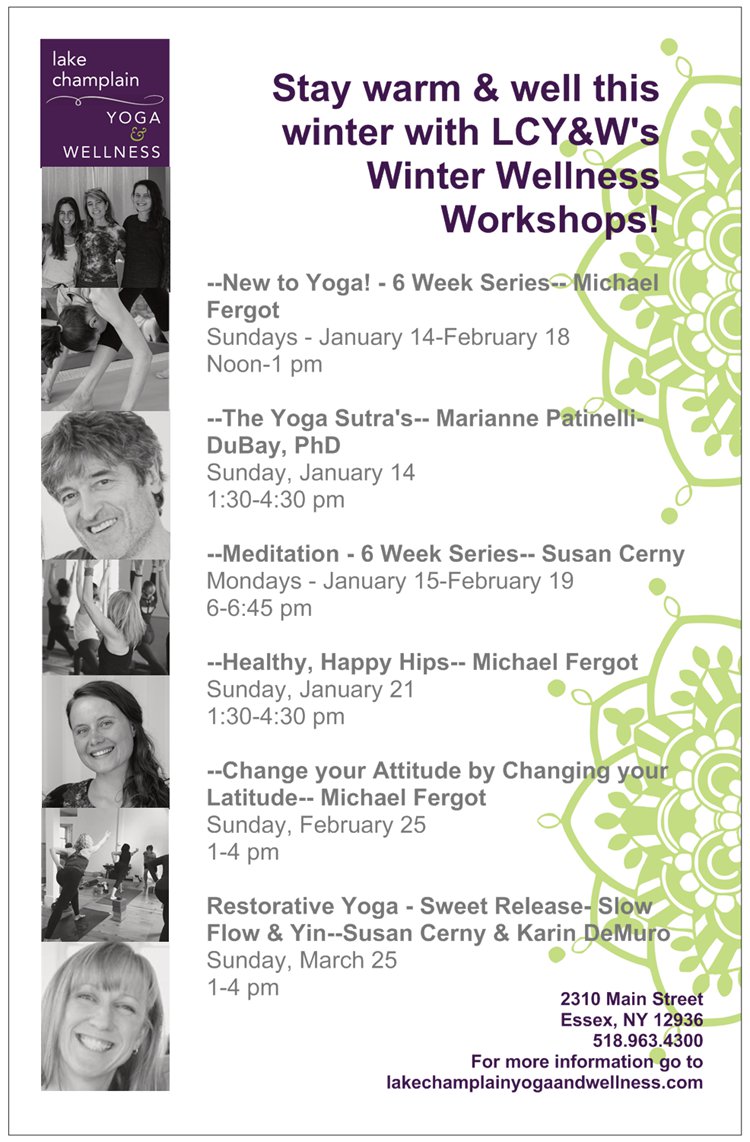 Winter Wellness Workshops

-Go to the bottom of the page for information to register for the Winter Wellness Workshops!-

~~New to Yoga! - 6 Week Series with Michael Fergot
Sundays - January 14-February 18
Noon-1 pm
$65 Series by January 13
$85 After
Have you ever had the thought "I'm not flexible enough to do yoga", or "I wish I could do … "?Then this is your class. This series will have a little philosophy and a lot of experience. Each week will present another facet. At the end of the series you may be amazed at your strength and flexibility. Commit 6 hours over 6 weeks to jump start your year, and change your world!
Week 1: Discover your core strength
Week 2: Taking a stand for balance
Week 3: Health, Happy Hips (knees, ankles, feet.)
Week 4: Strength of Arms (elbows, wrists, hands.)
Week 5: Integration
Week 6: Expansive vision

~~The Yoga Sutra: Seedless Contemplation and the Still Point with Marianne Patinelli-DuBay, PhD
Sunday, January 14
1:30-4:30 pm
Free for AYTT students
$35 general audience
Certified yoga teachers are expected to understand ancient texts that provide the theoretical groundwork of an integrated yoga practice. One such text is the Yoga Sutra attributed to Patanjali. The Sutra is believed to have been composed in the third century AD and it remains required reading for yoga teachers and practitioners to this day. The entirety of the Sutra Part One is comprised of a mere 51 aphorisms, or compressed principles, yet the dense complexity of these lines has mystified readers for ages.

Philosophers have been addressing questions of the human condition for centuries including how to chart the contour of a good life and what is the nature of desire, how should we grieve and how ought we act in the face of suffering, what constitutes beauty and how should we love.

Like any discipline dedicated to understanding the complex relationships between self and world, philosophy is as much a method as it is a particular set of readings. In any area of inquiry, one cannot expect to reach a meaningful level of understanding without employing the method best suited to the types of questions being asked. The method that takes us most competently inside of a philosophical text like the Yoga Sutra is naturally the philosophical method.

With that in mind, we will take a clear, efficient philosophical approach to the Sutra itself absent commentary, disputes around translations, histories, socio-political contexts and the like. Once we are able to hear the original text independent of complicating external lenses, then we can become conversant with it. Bringing Patanjali's lines into a group discussion through framing questions that scaffold our inquiry helps us to achieve some degree of understanding that enables us to learn what the text has to say to each of us and how we can use it to address exactly the larger philosophical questions posed above.

Our seminar will begin with a short meditation and gentle asanas to focus the mind and prepare the body for a seated discussion. We will spend the remainder of our time together considering Barbara Stoler Miller's 1996 translation of the Yoga Sutra Part One. Cost: Includes materials mailed to each registrant in advance of the seminar. Registration deadline: Sunday, January 7, 2018

~~Meditation - 6 Week Series with Susan Cerny
Mondays - January 15-February 19
6-6:45 pm
$30 Series by January 13
$8 to drop in
$5 after yoga
Join Susan Cerny for a six week mindfulness meditation series at Lake Champlain Yoga & Wellness. Meditation has a number of physical and mental benefits from lowering stress hormones, strengthening the immune system, facilitating deeper and more restful sleep and relaxing the nervous system. It promotes calm and clarity of thinking and has been used by people of all traditions as a tool to find peace. Class begins with a 20 minute guided meditation flowing into a 20 minute silent meditation. Beginners and advanced practitioners welcome.

~~Healthy, Happy Hips - Wellness Workshop with Michael Fergot
Sunday, January 21
1:30-4:30 pm
$45 by January 19
$55 after
Healthy, Happy Hips. One joint, left and right, two bones. And every step that you have ever taken, ever leap that you will ever experience, your hips have helped you on your way. This workshop will experientially allow you to explore the freedom and strength that support you in so very many ways. Expect step by step sequencing towards healthy hips, that happily offers you the freedom to find greater ease through stability.

~~Change your Attitude by Changing your Latitude - Side Angles Wellness Workshop with Michael Fergot
Sunday, February 25
1-4 pm
$45 by February 23
$55 after
The side angle poses present their own unique gifts, while requiring a strong sense of center. The earth has it's equator and its's poles, and a lot of latitude in between. If you feel like you've been hanging out in the arctic for a while, this will be an afternoon visit to the tropics. Warning: you may end up with a sunny disposition.

~~Restorative Yoga - Sweet Release- Slow Flow, Yin & Restorative Yoga with Susan Cerny & Karin DeMuro
Sunday, March 25
1-4 pm
$45 by March 23
$55 after
Join Karin DeMuro and Susan Cerny for an afternoon practice designed to restore the body's natural balance through deep relaxation, release and self care. Students are guided through a gentle flow and yin sequence to warm the body before relaxing into a series of restorative postures. In each posture, students are supported by bolsters and props to allow the body and mind to open fully and release stored tension in a completely passive way. Teachers will provide gentle assists, aromatherapy and hot stones to encourage deep relaxation. The workshop will end with guided deep breathing techniques, a self lymphatic massage, and a deep yoga nidra relaxation. This workshop is carefully designed to restore balance to the muscular, endocrine, lymphatic and nervous systems as well as to decompress joints, deepen sleep and reduce stress.

Three ways to register for the Winter Wellness Workshops!
-Send a check for the Workshop amount to PO Box 102 Essex, NY-
-Drop off a check at the studio/before or after class or at the front door grey secure dropbox-
-Credit Cards through PayPal with the link below-





~~1-to-1 Yoga
While everybody may benefit from yoga, not every yoga practice is meant for every body. If you have a longstanding ache or a recent injury there are specific therapeutic poses which will benefit you as an individual, that may not be in every class that you will take. 1-to-1 Yoga allows you to find the best actions for you to promote the most efficient return to optimal health.
Or if there is a specific posture that has challenged you or that you would like to explore to gain greater mastery,
​1-to-1 Yoga allows you to discover specific sequences to find greater freedom of expression.
1-to-1 Yoga yoga is a wonderful tool if you are:
-Brand new to yoga or hesitant to try group classes.
-Feel lost during class and have specific questions or need the poses broken down.
-Have specific goals to advance your practice.
Email Lake Champlain Yoga & Wellness at info@lakechamplainyogaandwellness.com or call at 518.963.4300 to make a 1-to-1 Yoga appointment today with Susan Cerny, Karin DeMuro or Michael Fergot, our skilled and certified Yoga Teachers.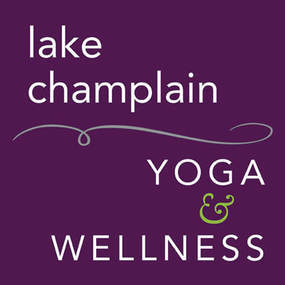 ​













​



Wellness Gift Certificates
For everyone on your list LCY&W gift certificates fit just right. For Weekly Yoga Classes, Massage, Physical Therapy or 1-to-1 Yoga there is something for all!
-Choose the Gift Certificate Increment below and purchase with a CC or Paypal
-Once purchased you will get an email confirmation
-A Wellness Gift Certificate with be sent to the recipient within 3 days
-Please place your order by December 19, 2017 to receive by Christmas
-Questions - Please call 518.963.4300

-Thank you!
---